Pat's May Real Estate update is available which includes i) Listing drought within Okanagan Valley Region, ii) Okanagan Real Estate Boom keeps escalating and iii) Should you buy the "Perfect expect for …" property?
"We are in a supply drought when it comes to listings" says the Association of Interior REALTORS® President Kim Heizmann,  The total number of active residential listings remained low for April with only 2,818 across the Association region.  "Despite the supply drought the market remains strong and is starting to rationalize," says Heizmann "Hopefully we'll see more homes come on market."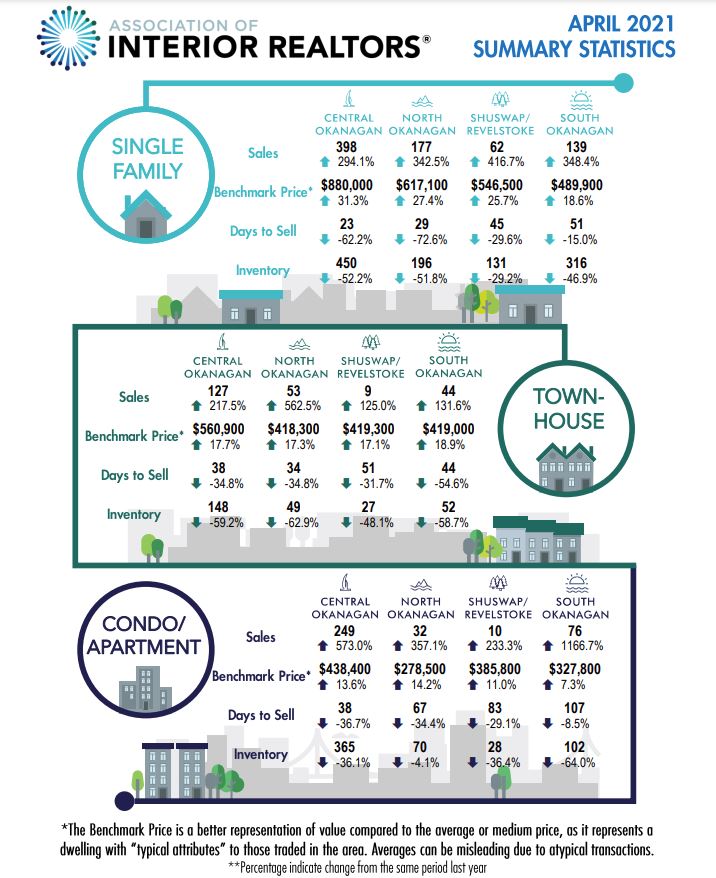 I'm available to answer your Real Estate questions at any time, please don't hesitate to call me.
I hope you're enjoying the spring season so far!

Okanagan real estate boom keeps escalating
The 2021 year is one the Kelowna real estate industry hopes will never end.
In dramatic and unexpected fashion, the Okanagan real estate boom has taken a wild upswing dating back to early last fall, a boom cycle some experts say could extend for the rest of the 2020 decade.
"We have had what I would call a hot winter in housing sales and that suggests the summer will double what we saw in 2020," said Brown, noting unsold inventory has dropped 50 per cent compared to six months ago.

Brown suggested the pent-up buying demand across the Okanagan, spotlighted particularly in Kelowna, is driven by people moving to the valley instead of people moving around within a given community.

Click here to read the full article.
Should You Buy the "Except for…" Home?
Imagine finding a home that is perfect in every way, except for one nagging thing. That "thing" might be a smaller kitchen than you want, fewer closets than you need, or flooring that you dislike. Should you buy it anyway? How do you know if you should take a pass? It's not an easy decision to make and depends on a number of factors.
Trying to answer these questions might help:
How likely is it that you'll find another home that better meets your needs?
How soon do you want to move? (If you're in a time-crunch you may need to adjust your expectations.)
Is the "except for…" something that can be fixed, perhaps with a renovation? For example, there are many ways to expand a small kitchen.
If the home's shortcoming is fixable, approximately how much will that cost? It might turn out that the improvement is a good investment.
Can you live with the nagging "thing", especially when the home is otherwise perfect?
It can be tough to work through a decision like this, especially if you're in a situation where you need to make an offer quickly. Call today for help.